Bev Skeggs gave us so much to think and talk about with each other. If you haven't had a chance to watch her amazing talk yet, then please do so! You can find it in Part 1 of this blog series. She left us with a question – "How can we build value with those who are devalued?"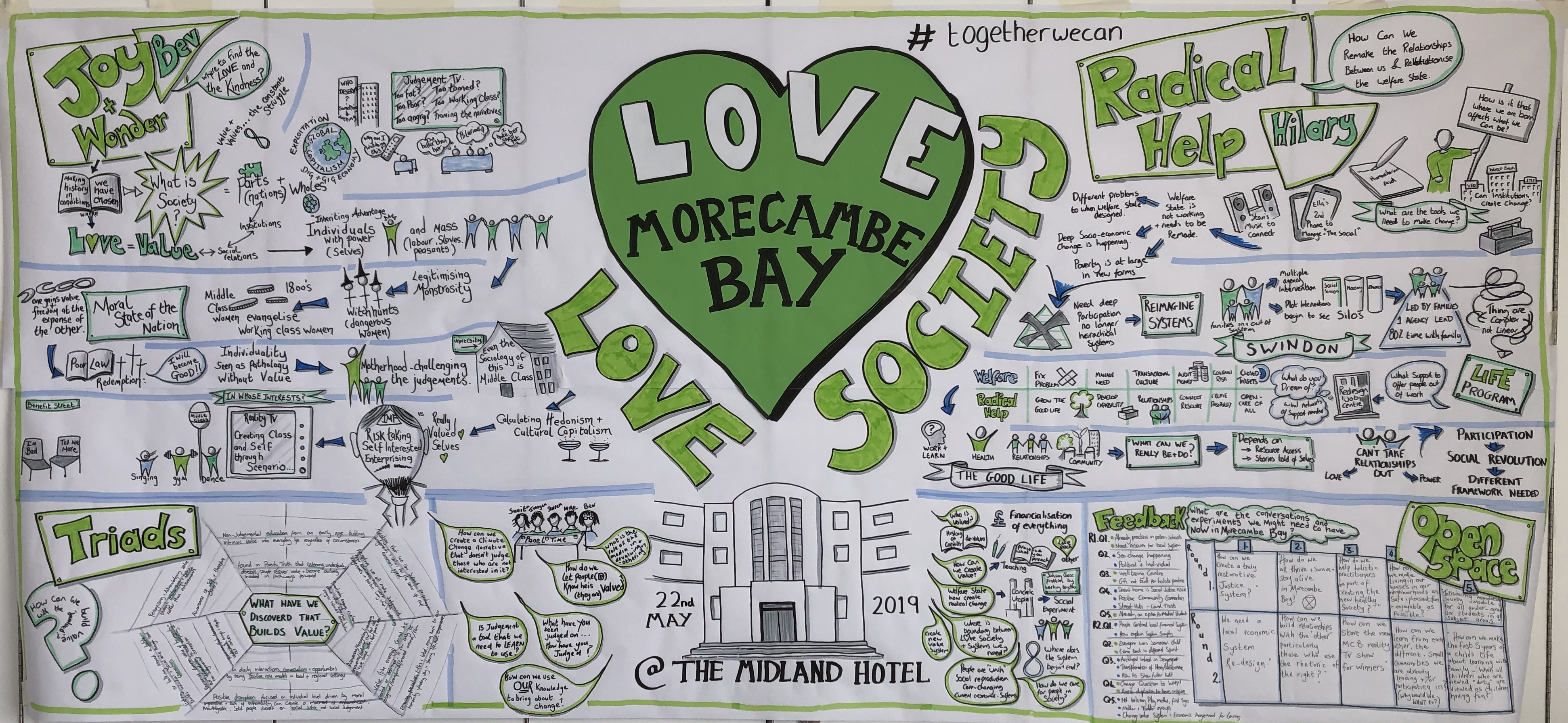 One of my favourite ways to explore big questions like this (and there are many methods we use through our 'art of hosting' training) is Triads. Triads is a simple and effective way of helping people have really meaningful conversations whilst being deeply listened to. It's a very powerful experience. It involves breaking into groups of three (obviously). One person is the 'speaker', one person is the 'listener' and the other is the 'witness'. The listener asks the speaker the question that everyone is exploring. The speaker then has 10-15 minutes (depending on time constraints) to answer the question in whatever way they want to. The listener listens deeply, might ask some more questions, or encourage the speaker to unpack what they've said a bit more. They stay curious, trying to draw out the wisdom of the speaker, but not slipping into the role of 'speaker' themselves. At the end of the time, the listener reflects back what they have heard. The witness holds the whole process and watches over the time and might offer some reflections of the process or things that have gone unspoken or unheard. Then everyone swaps round into different roles, so that by the end of 40-45 minutes, everyone has had a turn in each role.
When everyone was back in the room together and after a good coffee break, we asked the triads to reflect on the following question (moving from singular to combined wisdom – from 'me' to 'we'), having heard from each person in turn: "What have we discovered that  builds value?" 
Each triad (or pair of triads) was then asked to come up with one sentence that captured their corporate wisdom. Here are the sentences that were spoken into the room – they are worthy of much reflection. I love how much synergy can come from a diverse group of people!
What have we discovered that builds value?
– Non-judgemental education from an early age builds intrinsic value into everyday life, regardless of circumstances.
– We have found in the Poverty Truth Commission that through listening, understanding develops, people recover value and become actively involved in pathways forward.
– Trusting that we can subvert pre-packaged judgements and values for the value of the common good.
– Accepting that we all make judgements, we grow awareness of how to work with judgments in a positive way that is empowering.
– Positively engage with and welcome 'others' without judgement and recognise the value of individual contributions.
– Discovering/Recognising/Empowering/Encouraging/Nurturing the fact we all have unique value and have power in value.
– Value (like energy) cannot be created or destroyed. It can only be recognised/transformed/moved around/flow.
– Removing prejudices, titles and labels – going back to our humanity and finding joy in sharing life, food and experiences.
– In daily interactions, conversations and opportunities by being positive role models in local and regional settings.
– Positive disruption focused on an individual level, driven by a moral imperative and brave vulnerability can create a movement of enfranchised, knowledgeable, solid people focused on social justice not social judgement.
– Eating or talking around a table builds individual and social value through real connection.
– Recognise the common value of humanity and our vulnerability to build empathy and non-judgemental connection.
– Knowing that someone understands, accepts and respects our values. 
– Recognising and acknowledging value through relationships and being rather than achievements. 
– Awareness of self and therefore others.
Jon Dorsett and Lou Andrews, part of our team and outstanding graphic harvesters (if you ever need any help!) turned this wisdom into a spider's web of learning. This is a kind of framework for a renewed society, maybe! However, none of this is straightforward and my friend Roger Mitchell has also done some really helpful reflections of his own, in his excellent blog.
If we want to build a society based on love and kindness, we have to examine the value we place on people and the environment and the values which shape our society currently. That guy Jesus, once said, "What you value (treasure) is where your heart will be also…."
To finish the morning we had a reflective panel discussion – it was packed full of wisdom – enjoy!