Tag:
maslow's hierarchy of need
If you work in the NHS, in any capacity, this letter is for you, no matter what your role.
Dear NHS Staff Member,
I write this to you as a GP, who cares for many people who work in the NHS and sees the huge stress many of us feel under. I write it as a 'system leader' in my role as Director of Population Health and as someone who has been a patient myself, twice in the last 12 months.
We are constantly told that the NHS is in crisis (I've even written blogs about it myself!), that we're not meeting targets, that we're getting things wrong, that we're struggling to cope under the strain of demand but not being efficient enough and it can feel like what we're doing isn't up to the mark. With all the other current surrounding narratives we live with (like Brexit and Climate Change), things can so easily feel overwhelming.
So, I just wanted to write and tell you that the NHS is not in a crisis. We're just underfunded and understaffed and we're doing the best we can in those circumstances. Demand is growing year on year and we're dealing with real complexity. We've been under the biggest and longest squeeze on our finances in NHS history, for the last 9 years, and the 3.4% uplift we've been promised, although welcome, is not enough to keep us running as we are and do the transformational work required of us. We don't have enough people to deliver the work we're being asked to do and so it's no surprise that morale is low and burn-out levels are high. None of that is your fault. You are doing an amazing job. Every day, you turn up to work, in the context of everything else you have going on in your life and you are helping to deliver a truly world-class health service. Good job!
Amidst all the rhetoric you hear, the targets you feel under pressure to meet, the constant flow of people through the doors, the blame and complain (and sometimes bullying) culture that can grind you down, the traumas that you deal with every day, the pain that you help people process, the love and compassion that your pour out, the siloes and frustrations with the clumsiness of the system at times and the long hours – of which you work above and beyond most of the time…..know that you are more than your job and you are valuable just for who you are.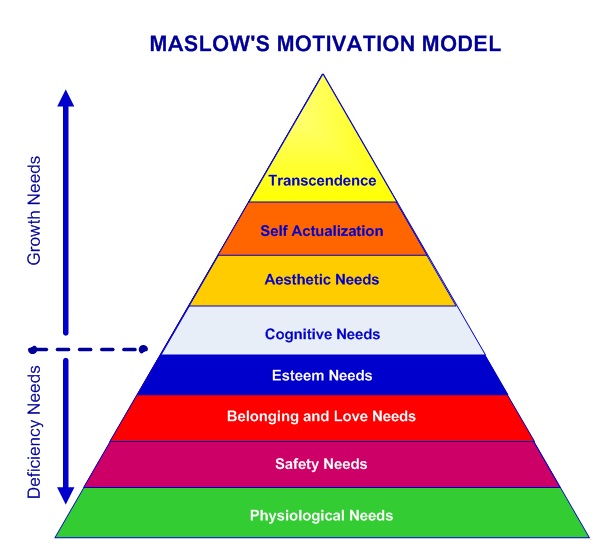 So, in all the busyness, remember to listen to and look after your own needs and those of your team around you. You can only do what you can do, and you're doing a great job. Think about Maslow's hierarchy of needs and how much you are attending to those things.
Physiological Needs – are you listening to your body? Are you getting time to have a drink, eat well, stretch, sleep and get to the toilet ok?
Safety – Are you feeling safe in your work? Do you feel protected? Are you worrying all the time about making mistakes? Do you feel it's ok to make a mistake and be able to talk about it and learn from it, without fearing some awful consequences?
Love and Belonging – Do you feel like you are an important member of your team – that you matter, that you belong, that people around you care about you? Maybe in the humdrum and mayhem of everyday, we forget to tell each other.
Esteem – How is your self-esteem? Do you feel confident in who you are? Are you treated with respect and kindness and treating others with the same – no matter who they may be?
Cognition – Are you in a place where you can think clearly, make rational choices and in an environment which values learning and development?
Aesthetic Needs – Are you taking time to admire the beauty around you and enjoy life? Without this, it's really hard to keep motivation alive, especially when things are tough and work feels really pressured. Taking time for this changes your perspective on everything else. How is your perspective? Is it in or out of kilter?
Self-Actualisation – Are you able to be spontaneous, making wise and creative, moral choices, problem solving without prejudice whilst accepting the facts in front of you?
Transcendence – This is the place we are aiming for as human beings – that ability to move out of our ego and into the place of gift from which we can love the 'other' and even our 'enemy' with the kind of transformative substance that changes the world.
The truth is, you can't get to this place of self-actualisation and transcendence if the other areas aren't looked after – so what needs attention? What are you noticing that needs taking care of? Don't worry about all the pressures from on high – it's all part of a system of biopower that needs to measure things to keep control. You – yes you, are valuable and important and the contribution you are making every day is phenomenal. You will certainly make some mistakes. It's likely that you'll feel overwhelmed at times, so listen to what your body, mind and heart needs and give yourself some space to attend to those things. Your own health and wellbeing really matters. So if you need help – and most of us do at different times, then please talk about it and give it some focus. We need to take care of each other – it's ok not to be ok. Only when we create supportive environments for each other can we bring our 'A game' and keep providing the phenomenal care, innovation and transformation that we do every day.
Thank you a million times for everything you are doing, despite the struggles and pressure. Together, we need to create a culture of joy and kindness. That is partly the responsibility of leaders, but its incumbent on all of us, to treat ourselves and those around us with gentleness and respect. Go ahead and keep doing the great work you are doing every day – you really are a wonder!
Love and gratefulness
Andy
Tweet Who should take responsibility for you health? Sounds like a straightforward question, doesn't it? But I get so frustrated when complex issues get squashed into simplified, silo-thinking, ready for twitter or media sound bites, or the under-girding of political ideologies. So….just as the economy is not just made up of the interplay between business and [Continue Reading …]