Over the last few years, 'The Art of Hosting' has been transformative to my thinking and practice as a Doctor, as a Commissioner and as a Director of Population Health. Part of the core theory that undergirds this way of working is the 4-fold practice. It involves learning to:
Host Yourself
Be Hosted
Host Others
Host with Others
Hosting yourself means doing the inner work, and tending to your own needs. It is important, if I am to give my best-self to those around me. As a type-7 personality, for me this has meant learning to embrace disciplines like silence and fasting. It has also meant learning to rest, learning some healthy boundaries, to take care of my physical needs, embrace pain rather than running from it and become more aware of my emotions, resisting the need to rationalise everything. In being hosted, it's about letting go of control, embracing humility and receiving the gift of others. In hosting others, it's about learning to hold space for someone else, to deeply listen and to resist the need to fix things, but rather to respond and to coach, where this is welcomed (perhaps the very art of the classic GP consultation!). Hosting with others, is about learning to collaborate, to play to each other's strengths, to enjoy the dynamic of relationship and to create a space together which opens up exponential potential!
We have now hosted 5 different trainings across Morecambe Bay in the last 2 years, and hosted many more conversations. Our latest training, in the City of Lancaster (our first without the incredible Linda Joy Mitchell), was an amalgamation of some of the 'art of hosting' practices with our own developing practices, here in the Bay. We called this training, "The Art of Connecting Communities" and together we explored some of the theory and practice under the question: "Why Bother Connecting?"
We began with the amazing, Yak Patel, CEO of the CVS in Lancaster District welcoming everyone and framing our 2 days together. Yak has become a good friend and is one of the best connectors of people I have ever met. He is deeply humble, kind and compassionate. He has lived and worked in this area all his life and has taken the time to build really wonderful relationships across many communities, which means he is trusted. So when someone, like Yak, puts out a call across the area to invite people to come and learn together about how we connect communities, people respond very eagerly. there has, perhaps, never been a more important time to connect together. Isolation and loneliness is literally killing us, and our walls of division and suspicion are leading us into dangerous territory. Bringing people and communities together is an art form and one which is worthy of serious collaborative learning.
To welcome everyone in, we did a 'check-in' using circle practice. Circle is an ancient practice, and is great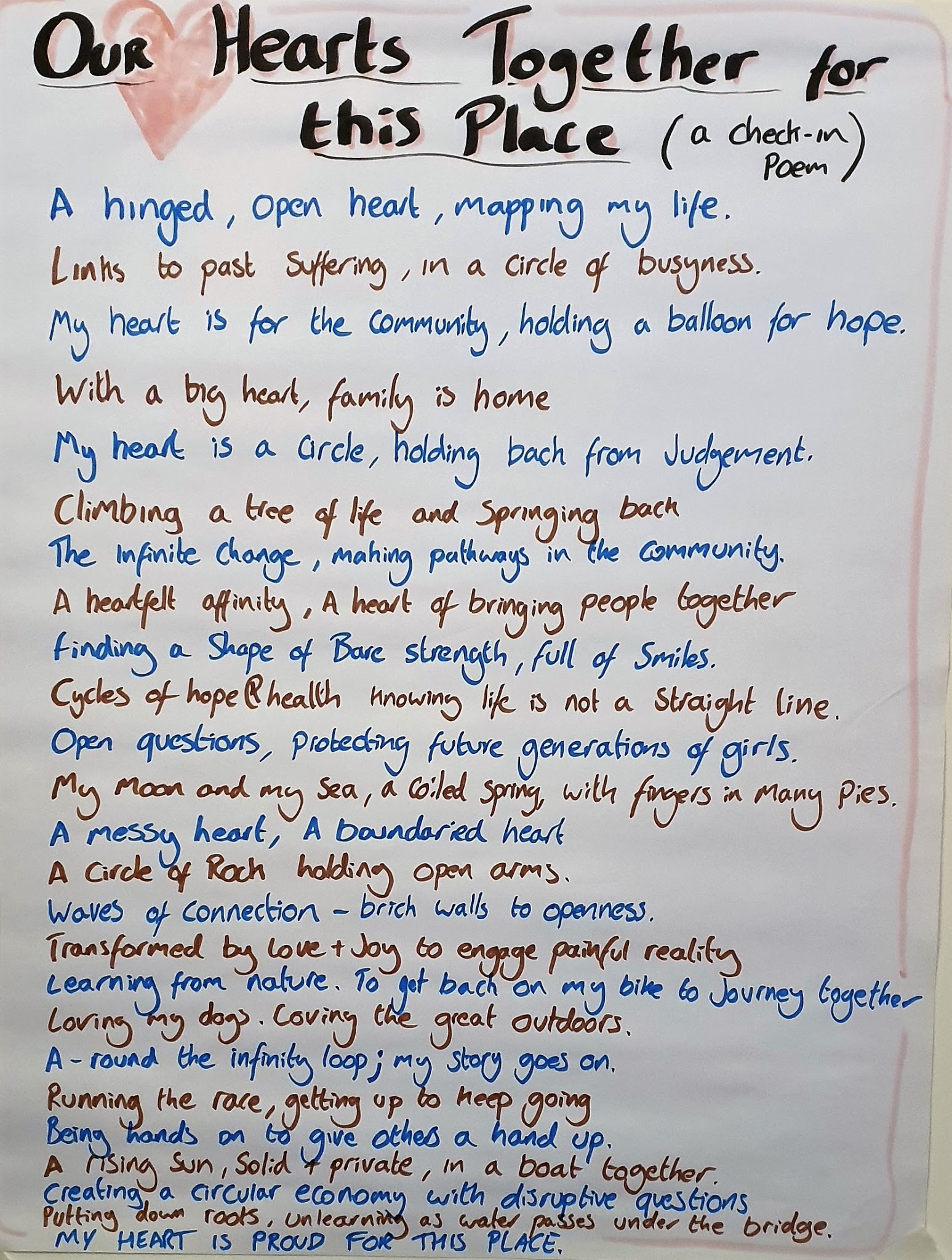 for breaking down hierarchies, welcoming everyone into a space and ensuring that every voice is heard and every person knows that they matter. It can be quite simple and straightforward, though my experience is that it tends to go quite deep, quite quickly. For us, in Morecambe Bay, this has always been helped by having members of 'The Well' communities with us. People from The Well know how to be community at a level you won't encounter in many other places. They know how to be vulnerable, with such a natural humility and so when they open up, it gives permission to the rest of the room to also go deeper. When this happens, we find people meet at a very human level and relationships form within the group easily. in this circle, we gave people pipe cleaners and asked them to make something which represented them. We than asked them to share this with the circle. Our harvest from the circle was very rich and the amazing Jon Dorsett, a truly brilliant host and one of the best graphic harvesters around, transformed it into a stunning piece of spoken word.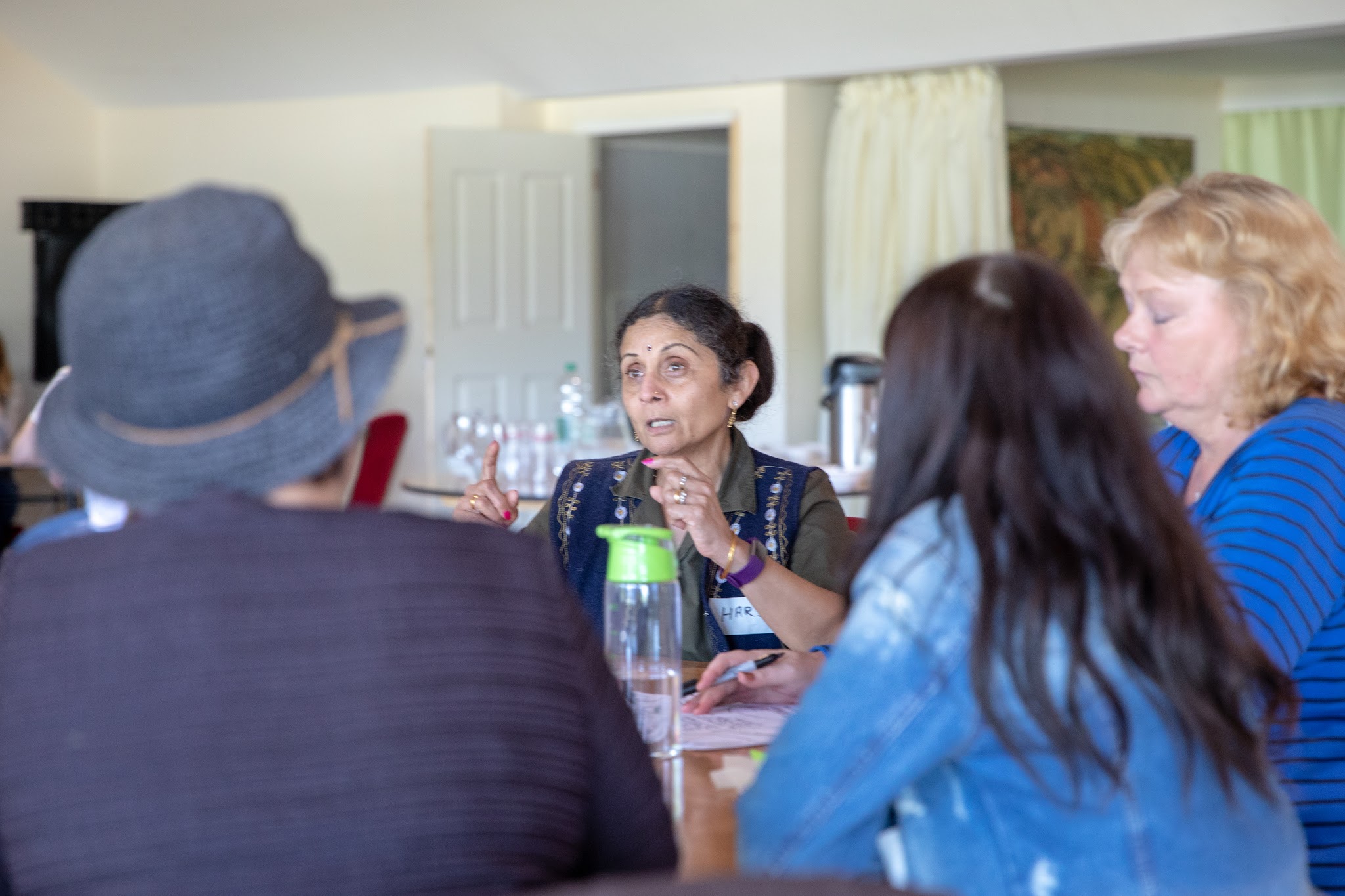 After a short break, the team hosted a world-café. Hosting a good café, depends on taking time to set the room well, explain the process and have a really good couple of questions. Our café took an appreciative enquiry approach. Our first question was: "What gives the Lancaster District It's Heart and Soul?" – after two rounds of incredibly rich conversation, we than asked: "Where and How do you Experience This?"
The beauty of a world café is the ability to find great connection and synergy in a room. The sense of positivity this conversation brought about the assets we have in this district was palpable and it created a dynamic in which everyone felt like a real participant and collaborator in the process.
Sue Mitchell, one of our team, a seasoned, wise and excellent coach and host did a teach-piece on 'Deep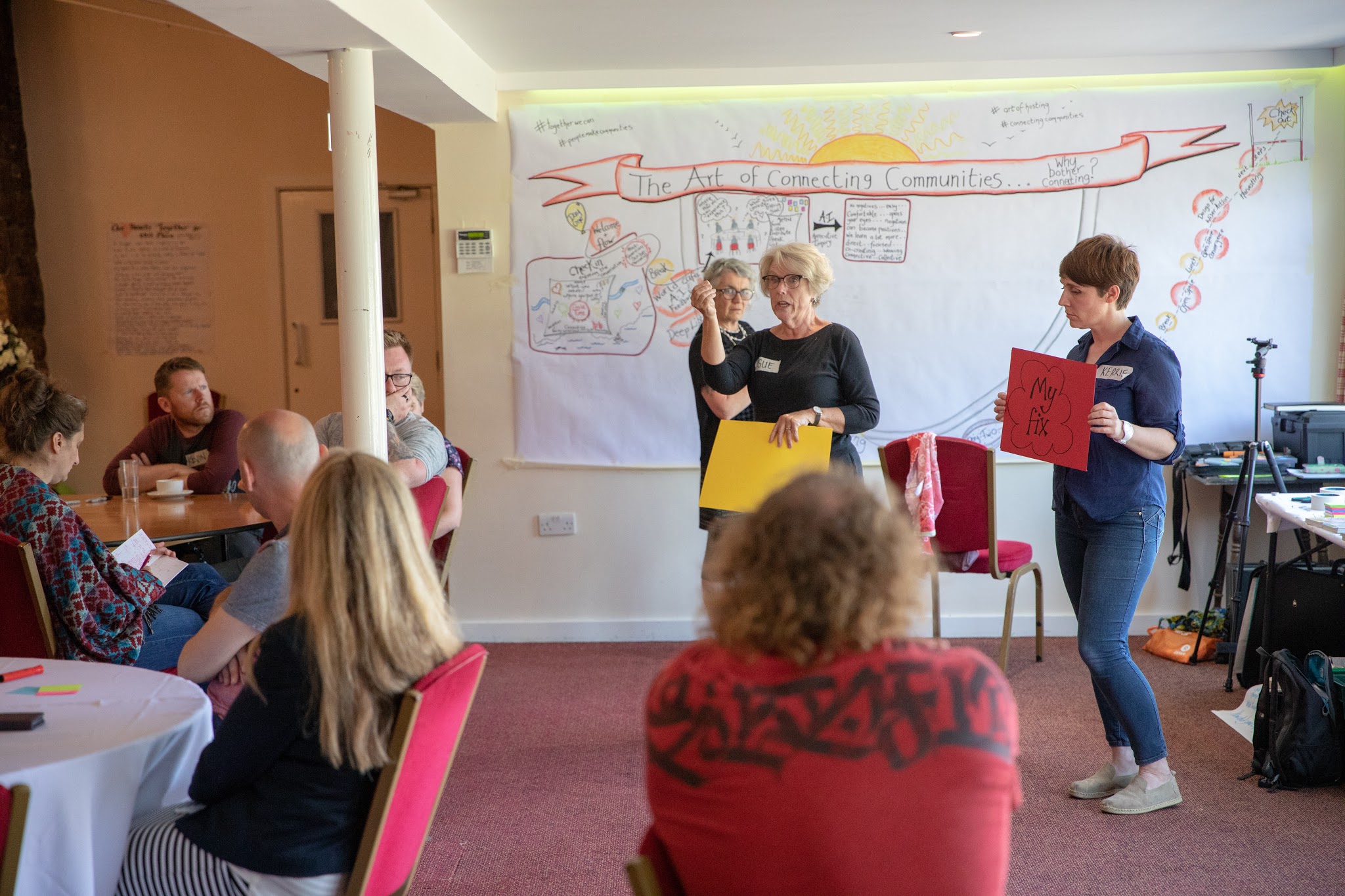 Listening', which we could also call 'Transformative Listening'. Listening is an art form and one that many of us never really learn – at least not to the deepest levels. Sue, expertly took us through those levels and helped us develop a framework to chall
enge ourselves about how well we really listen. Level 1 'My Turn' is when we're not really listening at all and we're just waiting to jump in with whatever it is we want to say. Level 2 is when something the speaker says sparks a memory in us and we start contributing about our own (perhaps) similar experience – oh yeah – 'me too'! It's about us trying to sense make and find connection, but can mean we really miss what is actually being said! Level 3 'My Fix' is about the listener stepping in and trying to fix the problem. It's a level at which we don't really want to connect too deeply, so we try and sort it and move on! Level 4 is where it begins to be about real listening – 'I WITH you' – it's quite a sacred space. It's where we allow ourselves to feel real empathy, to be with someone in their moment and experience, putting our own thoughts and experiences aside and creating a space for them. Level 5 is where 'we begin to hear'. It is the art of self-awareness, it's where we allow ourselves to be changed by the encounter and have our previously held perspectives and understandings changed. If we are to really connect within and across communities, we need to learn this art of listening.
Having learned about the art of real listening, we practiced it, using one of my favourite practices – Triads! The concept is pretty simple – three people, together – one is the speaker, one is the listener and one is the witness. The three people take it in turns to be each role, and each time, the same question or theme is explored. The theme we worked with was: "Share a story of a connection you made that changed your life. What was the impact?" – The listener asks the question, the speaker has 10 minutes to speak, with perhaps a few questions of clarification. At the end of the time, the listener sums up what they have heard and then the witness can give any feedback on what they have seen, things which have perhaps remained unspoken or anything else they have noticed. It is a very powerful experience to be listened to and to really hear another human being.
Learning to harvest is one of the most important aspects of hosting well. We harvested the learning from the triads, by bringing two triads together and asking this question: "What do we know about what builds connection?" – We then asked the 6 people together to come up with one sentence that reflected this knowledge and learning. Our harvesters then cleverly weaved a web of the learning.
We finished the day by checking out, again in a circle, simply speaking words of gratitude for the day and how we left feeling ahead of Day 2. As always happens on these days, people left feeling encouraged, hopeful and connected. I love it, because it is in the spaces formed between us that creativity is catalysed, ideas are formed and new things begin to emerge.